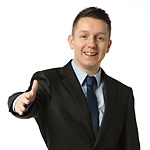 We deal with fleet managers every day and see that the fleet industry is going through some changes. Fleet insurance is important too but we are finding that the issues below are driving changes with how businesses choose their fleet vehicles.
Driver safety – Driver training is becoming more popular with fleet managers. Preventing avoidable accidents significantly reduces downtime of the driver and the car, as well as reducing admin for the fleet's manager and repair costs.
With more vehicles achieving the highest NCAP safety ratings possible, there is now a wider range of cars available to help keep your fleet driver safe and on the road.
Environmental friendliness – Greener cars consume less petrol which has a knock on effect on costs as well as the environmental impact from emissions. Greener cars are often cheaper to tax and could help your business save some money.
Fuel prices – We are all aware that fuel prices have increased greatly in the past 5 years even if recently, they have settled or decreased. For the fleet manager, the uncertainty of future costs is an issue for budgeting purposes. With more advanced GPS and routing technology, the most efficient routes can now be plotted and help reduce fuel consumption.
Security – Increased technology is helping the fleet manager to track their vehicles easily, and more cheaply meaning any vehicles stolen can usually be traced fairly quickly.
All of the above are essentially methods of controlling costs. The more environmentally friendly the car is, the lower the fuel cost. The more safely driven when on the road and secure the vehicle when stored, the lower the insurance premium can often be. Cost is a big issue for those managing fleets.
We offer competitive rates for fleet vehicles of 3 or more cars for drivers aged over 21.
If you would like to get a fleet insurance quote click here or call 0800 093 0036.
Thanks for reading!
Martin