Well Dunn Insurance has gone hopping mad for charity – by donating 96 chocolate bunnies to Wood Street Mission.
Staff from Well Dunn and its associated brand, Insurance Revolution, also donated Easter eggs of their own, bringing the grand chocolate total to 106.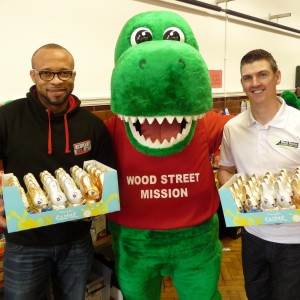 Insurance Revolution's James Opara, Well Dunn's Paul Chambers (as Woody) and Well Dunn Ltd director, Paul Dunn handing over the bunnies
City centre-based Wood Street Mission (WSM) has been working to alleviate poverty in Manchester and Salford for nearly 150 years and each Easter the charity donates chocolate eggs and household food items to thousands of children in the area.
Well Dunn Limited – Well Dunn and Insurance Revolution's parent company – first became involved with WSM last Christmas, when every staff member donated their December bonus to the organisation.
So following staff members' act of generosity, company director, Paul Dunn, thought he would take the lead when it came to Well Dunn Limited's Easter donation.
Paul pledged that every new business sale Well Dunn and Insurance Revolution staff made, he would match it with a chocolate bunny, to be donated to WSM.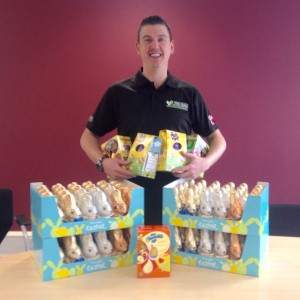 Paul and the bunnies
And the sales teams took the challenge to heart, managing to sell an impress 96 new business policies between March 16 and March 20.
Paul Dunn, Paul Chambers; Well Dunn Insurance team leader and James Opera; Insurance Revolution insurance advisor, popped into Wood Street to drop off the donations – with Paul Chambers even dressing up as the charity's mascot, Woody the dinosaur, for the occasion.
Chief executive of Wood Street Mission, Roseanne Sweeney, said: "We are delighted to have the support of Well Dunn Insurance again for our Easter Appeal.
"We are giving over 900 families eggs and food this Easter to offset some of the costs of the school holidays, something we couldn't do without the generosity of local businesses like Well Dunn. Thanks to all the team there."
Paul Dunn, Paul Chambers (as Woody) and James Opara, outside Wood Street Mission
Paul Dunn said: "We think Wood Street Mission does some amazing things for the local community so we are always more than happy to support them, however we can.
"To know that more than 100 children will personally benefit from our donation is amazing and I want to say how proud I am of the team for really getting behind the Easter drive."
Read more about Wood Street Mission here.