We recently launched our newly branded website and it was quickly followed by folders and business cards. We are really happy with the results and would love to know your thoughts on them.
Our folders have been designed to allow you to see your Insurance Account Manager so they are no longer just a voice at the end of the phone line. When you work with Well Dunn, you are given an Insurance Account Manager that will deal with your policy, any mid-term adjustments, and your renewals for you. That is why we think it is important that you know who you are dealing with.
If you would like to let us know what you think of the folders, feel free to give us a call or email oninsurance@welldunninsurance.co.uk
Thanks for reading.
Rebecca
Marketing Manager
The new folders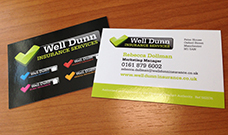 The new business cards